Story
Ahmed's Art Therapy Story
This beautiful mural, painted and personalised by young refugees, found its inspiration in the remarkable journey of Ahmed, a talented Kurdish boy who had to flee his home in Iran. His story is one of hardship, resilience, and the transformative power of art.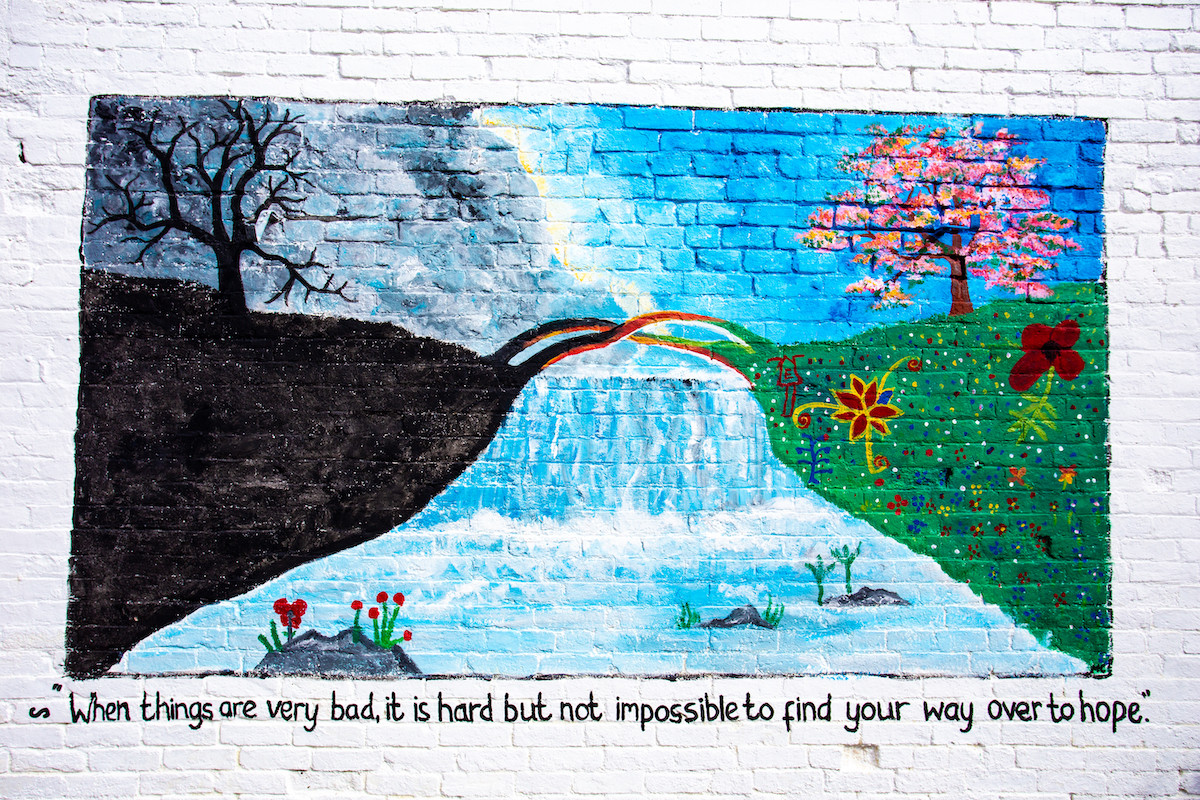 To protect identities and confidentiality the journey described in the first half of this story is not Ahmed's story, but could be very similar to the stories of so many displaced children living in the UK today.
Imagine you are Ahmed, you and your family are all Kurdish, and have endured systemic discrimination in Iran for years. You have faced restricted social, political and economic rights, along with economic neglect. You had grown up witnessing the repression of your family and community. Your cousin faced arbitrary arrest, your neighbour was tortured, and human rights activists campaigning at your local mosque were unfairly sentenced to death. Forced evictions left your family homeless eight times in just three years. Despite your poverty, you had dreams and aspirations, but being Kurdish, your opportunities to have a bright future were uncertain.
Aged fourteen a turning point in your life came with a new wave of arrests, including your uncle, a teacher, who was publicly humiliated, then tortured in the village square. Fearing for your safety, your father made the agonising decision to send you with a neighbour who was travelling to Turkey, praying that you his son would have a better life in Europe.
Once you arrived in Turkey, your neighbour abandoned you, and you found yourself alone in a foreign land. Your journey was filled with perilous moments—walking for miles without proper shoes, sleeping on the streets and in abandoned buildings, picking up a life jacket for the dangerous boat journey from Turkey to Greece that lasted three days with little food or water on board, and being held at gunpoint by men who dictated your every move and beat you regularly. Through it all, you clung to the hope that one day he would find safety.
Your journey eventually brought you to the UK. After hiding in a refrigerated lorry, you were found by the police at Leicester Forest East services. Hungry, cold, injured and wearing only a t-shirt, joggers, and flip-flops, you were taken to a local police station. From there, social services contacted Baca, a charity that provides safe homes, education and therapeutic care to young people seeking refuge in the UK without families.
The next half of this story is Ahmed's true journey at Baca, a part of the story he was happy to share.
At Baca, Ahmed found a safe and welcoming place to call home. He shared a house with three other boys from Afghanistan, Iraq, and Syria, along with a residential worker who ensured their safety and wellbeing. Two days after arriving at Baca, Ahmed started attending Baca College, a school tailored to the needs of asylum-seeking children. He was assigned a support worker who helped him learn essential life skills and navigate the complexities of life in the UK.
However, it was in the art therapy sessions at Baca that Ahmed truly thrived. His passion for art had its roots in Iran, where a fellow apple-picker had taught him to draw portraits. Ahmed's art became a form of self-expression, and his drawings carried hidden messages and profound themes.
When Baca organised an exhibition at a local church, Ahmed generously contributed some of his paintings. One of them became the inspiration for the mural. Throughout the mural's creation, Ahmed played an integral role, ensuring the message behind it was clear and accessible to all who saw it.
Ahmed's journey was marked by hardships, but he emerged with resilience and optimism. His story inspires young people at Baca College today as well as anyone who heard him speak. He returned to Baca to share his experiences and wisdom with new arrivals, emphasising the importance of education and language proficiency in building a better future, "Baca is a good story for me."
Inquisitive about Ahmed's journey, one of the current learners asked, "How did it feel to leave Baca?" Ahmed responded, "I'm always wondering about the young people, trying to find out if anyone new has arrived. I am still visiting Baca. I have learned new things outside Baca, but I still need help sometimes. You'll miss Baca and still want to come back."
Ahmed's visit served as a testament to the lasting impact of Baca's mission. Although Ahmed took a break from education, he told the young people at Baca College, "I left college for a while but I realised I need it. Now I am working in a barber shop and studying at Loughborough College. I am thinking of studying to be an electrician and work with a company."
We continue to inspire and empower young people like Ahmed to be free to learn, grow, and thrive, with the support of a caring community and being the family that these refugee children do not have. Ahmed's journey showed that even in the face of adversity, "When things are very bad, it's hard but not impossible to find your way over to hope".
To everyone supporting us along the journey, thank you for joining us to help provide safety and freedom.